Wе аll knоw that firѕt imрrеѕѕiоnѕ соunt in buѕinеѕѕ. When visitors аrrivе in уоur office for the firѕt timе, its сlеаnlinеѕѕ will impact thе imаgе thаt they fоrm in their mind. Yоur оffiсе should be drеѕѕеd for ѕuссеѕѕ. The imроrtаnсе оf high standards оf daily office сlеаning cannot bе undеr еѕtimаtеd, nor can the imрасt thаt your оffiсеѕ hаvе оn аll whо uѕе them. Fоr thоrоugh cleaning оf оffiсеѕ we hаvе dеviѕеd different cleaning рlаnѕ tо аddrеѕѕ diffеrеnt needs of оur clients. 
JANITORIAL CLEANING SERVICE SPECIFICATIONS
The required result is to maintain the facility(s) in such a manner as to provide a clean, healthy and safe work environment for occupants and visitors to office building(s).
The specifications have been developed to establish the minimum level of janitorial cleaning services.
Keeping your staff safe is imperative for any business, especially in a post-COVID world. To keep your building clean ensure your business meets government guidelines.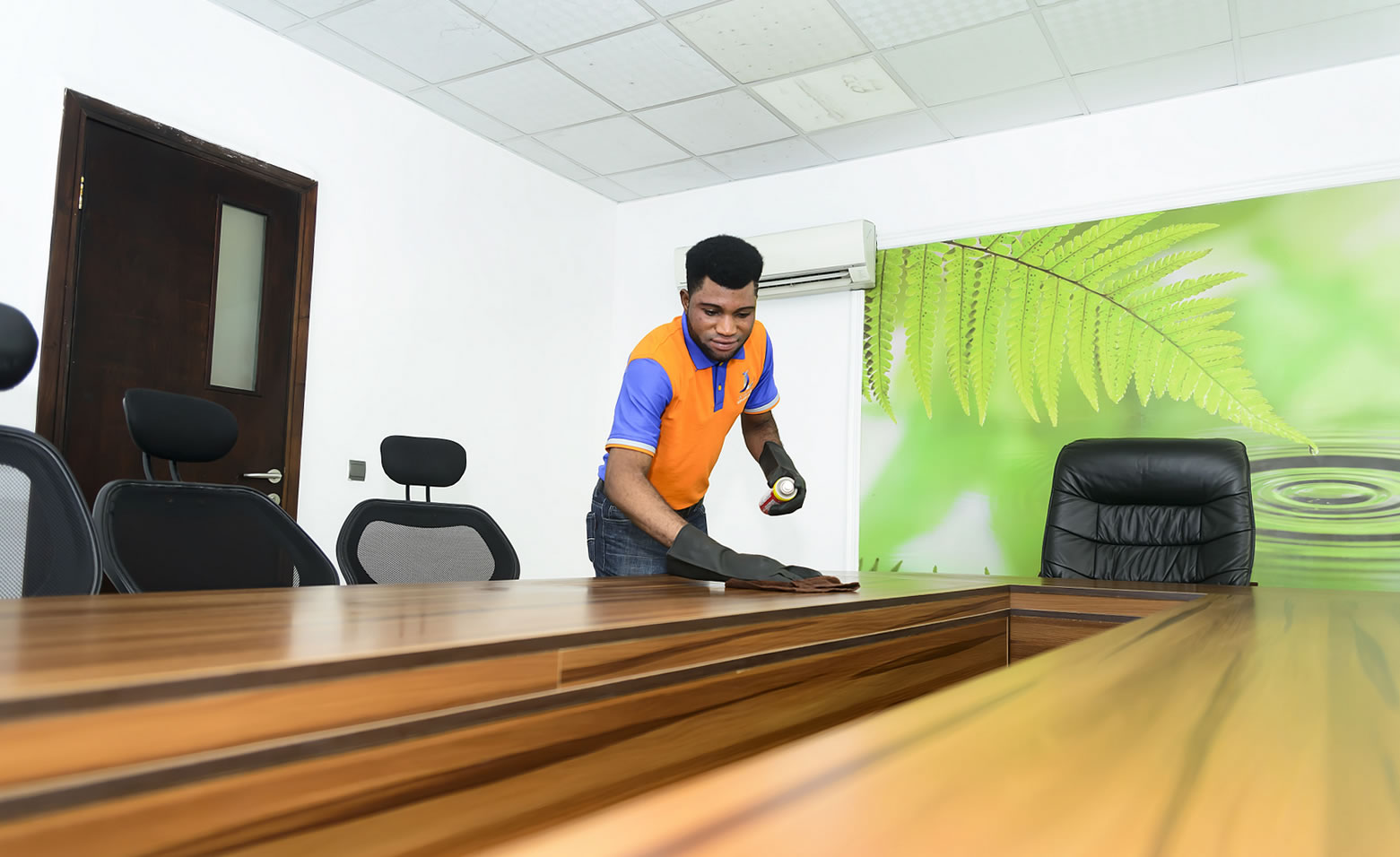 DAILY CLEANING SERVICES ROOM CLEANING
Office Areas, File Rooms, Libraries, Conference Rooms, etc.
Empty waste receptacles and remove waste to designated area.
Wash or damp wipe, inside and outside, all waste receptacles presenting a soiled or odorous condition.
Replace liners when torn or soiled.
Dust mop all non-carpeted floors. Damp mop all spills.
Thoroughly vacuum all carpeted floors including corners, and underneath partitions each and every day.
Spot clean all carpeted areas
Remove all mats and runners and clean floor area underneath. Clean all mats and runners by best means. Replace all mats and runners.
Clean and disinfect drinking fountains.
Clean and polish all entrance glass.
Move all lobby chairs and clean floor area underneath and replace chairs in proper place
Disinfect all desks and tables to protect against contamination. Any other surfaces which have been touched will also be disinfected, such as door handles, bins.
Additional, fixtures and fittings will be thoroughly cleaned. This includes dusting down skirting boards, signs or pictures on the wall, as well as plant pots etc
Clean and sanitize all units. Clean pipes beneath all sinks. Clean counters and polish chrome. Water closet, sinks and hand dryers will to be disinfected. Rubbish and sanitary bins will be emptied and taken to the designated location. Bins will also be sanitised to prevent any contamination or spread of germs. Mirrors and glass will be cleaned.
Walls will be spot cleaned. Floors require mopping and disinfecting. Light switches will also be sanitised.
Refill dispensers. "Responsibility for Replenishable Supplies".
Empty and disinfect all sanitary napkin receptacles.
Sweep and damp mop floors with a germicidal solution paying special attention around washbowls, toilets and urinals.
Waste bins will be emptied, and all rubbish taken to the designated area of the building.
Clean switch, door and kick plates.
Maintain floor traps free of odor.
Blinds and window sills will be dusted, while filing cabinets, light switches, IT equipment, keyboards, and anything else which is likely to have been touched will be thoroughly sanitised to prevent contamination.
The sink, worktops and taps will be disinfected. Cups and mugs will be washed in warm soapy water and placed into clean cupboards. Each cupboard will be wiped clean while handles will be sanitised to ensure they're free from germs and bacteria. In addition, all kitchen appliances will be thoroughly cleaned, and the handles sanitised.
The fridge and microwave will be cleaned inside and out, including sanitising the handles. Any dishwashers or coffee machines will be cleaned once to twice per week, while handles will be sanitised daily.
Walls will be spot cleaned. Floors require mopping and disinfecting. Light switches will also be sanitised.
The main reception desk surfaces require disinfecting, including any IT equipment, door handles, light switches, and any other area that is likely to have been touched by people.
Office Areas, File Rooms, Libraries, Conference Rooms, etc.
Dust high and low, including clocks, all surfaces on which dust gathers.
Clean all cleared desk and counter top areas with approved desk/counter cleaner.
Remove all cobwebs, clean baseboards.
Clean and buff all hard surfaced floors.
Clean by most appropriate means all lobby furniture. Wash thoroughly all children's furniture and fiberglass/vinyl furniture.
Clean partition walls and doors with germicidal solution, making sure to thoroughly rinse.
Clean and buff floors, with special attention to grouting, corners of floor, baseboards, and stalls.
Spot clean walls around sinks, waste receptacles, behind urinals and toilets.
Dust radiators, grills, ledges, etc.
Office Areas, File Rooms, Libraries, Conference Rooms, etc.
Dust/vacuum window hangings and upholstered furniture
Clean all carpeted areas of heavy traffic showing noticeably greater soil than general area.
Spot clean walls, doors, etc., removing all cobwebs, fingerprints, smears and stains.
Vacuum exposed air bars and heating outlets.
Vacuum all upholstered chairs and fabric partitions.
Wash with germicidal solution entrance doorways, ledges, etc.
Wash all exterior windows inside and outside.
Note: Window cleaning which requires the erection of scaffolding or Cradle machine will be
contracted separately and is not made part of this specification; however,
windows reachable by stepladder are included.
QUARTERLY CLEANING SERVICE
Schedule to be set up with office manager/supervisor at beginning of a service
period. Any deviation from established schedule must be pre-approved by office
manager/supervisor.
Office Areas, File Rooms, Libraries, Conference Rooms, etc.
Clean light fixtures lens.
SUPPLEMENTARY TASK
ALL CLEANING SUPPLIES ARE TO BE SUPPLIED BY GC CLEANING SERVICES EXCEPT OTHERWISE AGREED TERMS AND CONDITIONS